Maximize Accessibility, Increase Productivity and Conserve Space
With WallWrite by Datum, you can create a secure work station anywhere you have a few feet of wall space. It is ideal for busy or crowded areas or any place where a little extra work space is needed.
WallWrite can serve as a communication hub, emergency first aid center, tool kit, and so much more. With the optional locking door, it can serve as a HIPAA-compliant secure file center. It can also help companies meet the Federal Hazard Communications Standard by providing a convenient storage place for MSDS binders and other important reference materials.
A flip-down door provides a handy writing surface. A magnetic closure ensures the door remains closed and is rated to withstand 50 pounds of evenly distributed weight. Options include chart holders, an erasable white board, laminated front panels, optional wood sides and more so you can integrate your WallWrite seamlessly into your facilities.
Like our other storage products, WallWrite is made in the USA from premium steel with a durable powder coat finish. All models of WallWrite meet ADA standards.
Imagine what you could do with a WallWrite in just the right spot.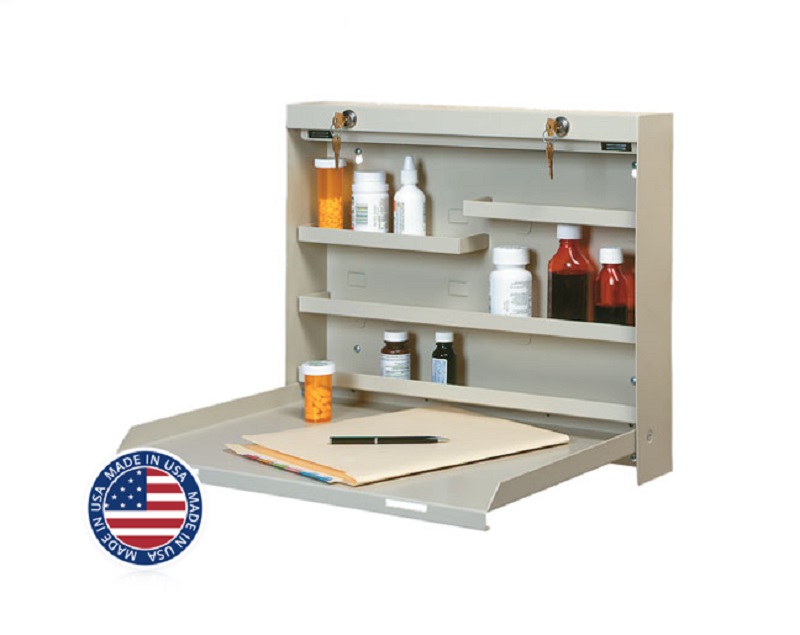 Store charts, folders, pens, instruments, small tools and other supplies
Optional locking door provides HIPAA-compliant security
Magnetic closure ensures door remains closed when not in use
Flip-down door serves as a writing surface and withstands 50 pounds of evenly distributed weight load
Optional chart holders, erasable white board, laminated front panels and wood sides are available
Meets ADA standards
Features Lifetime Product Warranty & 2 Year Labor Warranty
Ideal for Police & Military, Art & Museums, Manufacturing & Industrial, Government & State Facilities, Libraries, Sports & Athletic Facilities, Schools & Colleges, Offices & Corporate Buildings, Computer Labs and Healthcare & Medical Facilities