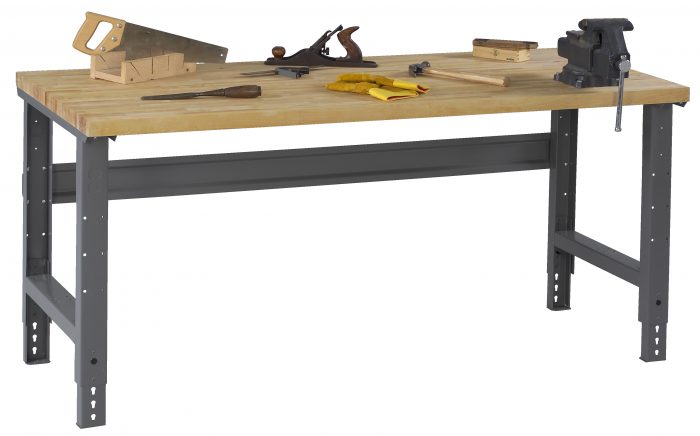 Choice of five tops (Steel, Steel With Hardboard, Plastic Laminate, Compressed Wood or Hardwood Butcher Block) to suit your preference. Four leg options (Flared, Adjustable, Panel or Pedestal) available for your storage needs. Engineered to accommodate electrical outlets. Add mobility to your workbench with an optional caster kit. Multiple accessories and options available, such as risers, electronic panels and casters.
Hardwood Butcher Block Top Workbench with Adjustable Legs
48″w x 30″d x 33 1/2″h
Tennsco® workbenches are constructed of only the finest materials and represent the hallmark of strength and durability. With legs made of 13 gauge steel, strength is a priority.
Almost every work station is custom made and a little different from the others. Why should you settle for a stock work station when you can build one specifically for your business. Industrial Shelving USA has created a system where you can design every single part of your work station.
This sheet is an initial contact form to primarily assist you in designing the best possible work station for your facility. Once you fill out the initial information, we may request additional information. It is important that you complete the quick questionnaire as detailed as possible. We will contact you on the same day of your request or no later than the following work day.
Note: We spend a considerable amount of time and energy designing your system quote to your specifications. Please answer the questions as accurately as possible for your best quote. Thank you
Circuit Breaker with Reset Power Rails incorporate an easily accessible circuit breaker.
Handy On-Off Switch For safety and convenience, the optional Power Rail includes a handy on-off switch within easy reach for users.
Choice of Storage Modules Choose from three types of storage to meet any storage requirement.
Adjustable Levelers Adjustable leveling glides provide stability on irregular surfaces.
Grounding Kit Convenient wrist strap grounding receptacle protects electronic parts from static electricity. Requires staticcontrol surface for proper grounding.
Instrument Shelf Lifts instruments and equipment off the work surface for better usability.
Sturdy Work Surfaces Heavy-duty laminate work surface and optional static-control surfaces are both designed to handle the toughest assignments.
Concealed Fastener System Nuts and bolts are concealed to enhance the attractiveness of the workstation.
Sturdy Steel Construction Heavy duty steel construction makes this workstation stand-up to years of heavy use.
Footrest for Comfort Integrated footrest with slip-resistant tape helps make workstation ergonomically correct.
Cantilevered Task Light Add visibility to your workstation by mounting an overhead 32-watt lamp.
Upright Frame Sturdy frame securely attaches to rear of workstation with bolts.
Cantilevered Shelf Shelves easily attach and adjust to specific requirements.
Sloped Shelf Allows viewing instrument readouts from a seated position.
Bin Rail Small parts made readily available.
---

---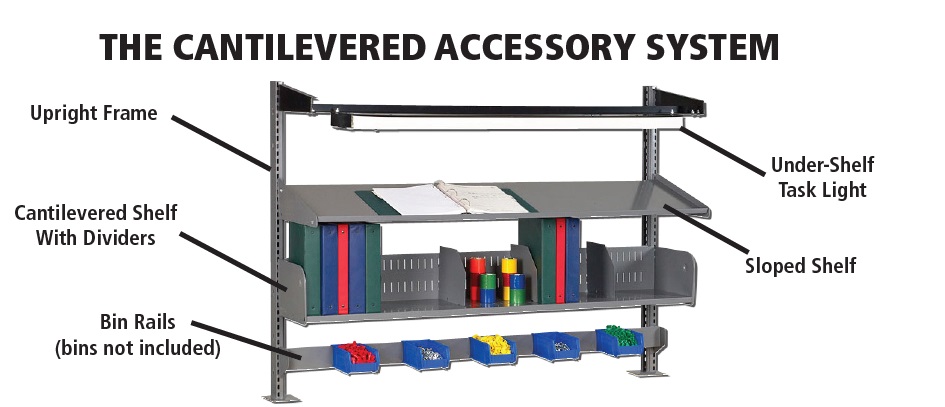 The Cantilevered Accessory System provides a variety of convenient storage options for your workstation. Start with upright frames, then
add accessories such as shelves with dividers, sloped shelves, an overhead light, or a bin rail for adding third-party bins for small parts storage.
---