When your storage needs go beyond shelving and pallet racks, you need a cantilever racking system instead. Industrial Shelving USA specializes in industrial and warehouse cantilever racking system installation and design in Wallace, NC, the state of North Carolina, and across the entire US. We carry name brand, made-in-the-USA cantilever racking systems designed to help you manage and store any size load or inventory no matter the length or dimensions. Not quite what you're looking for? Take a look at our other heavy-duty shelving solutions, which include pallet racks and metal lockers, for your warehouse.
We have industrial and warehouse cantilever racking system installation and design experts all over the US and provide services nationwide for all industries and business types. We can supply you with a variety of cantilever racking storage solutions including:
Carpet Cantilever Rack Systems
Furniture Cantilever Rack Systems
Lumber Cantilever Rack Systems
Piping Cantilever Rack Systems
And more.
Cantilever Racking Options:
For heavy-duty projects from 2,000 lbs per arm to 50,000 lbs per arm use MECO Industrial strength Cantilever Racks 1000-5000 series.
Use the Quick Quote Form: When you find the product you are looking for, use the "Request Free Quote" links on that page to request your custom quote. We will contact you on the same day of your request or no later than the following business day. (In most cases, we will contact you within a couple hours on your request as we handle quotes very quickly)
For storage solutions under 1,000 lbs per arm try light duty cantilever rack by Equipto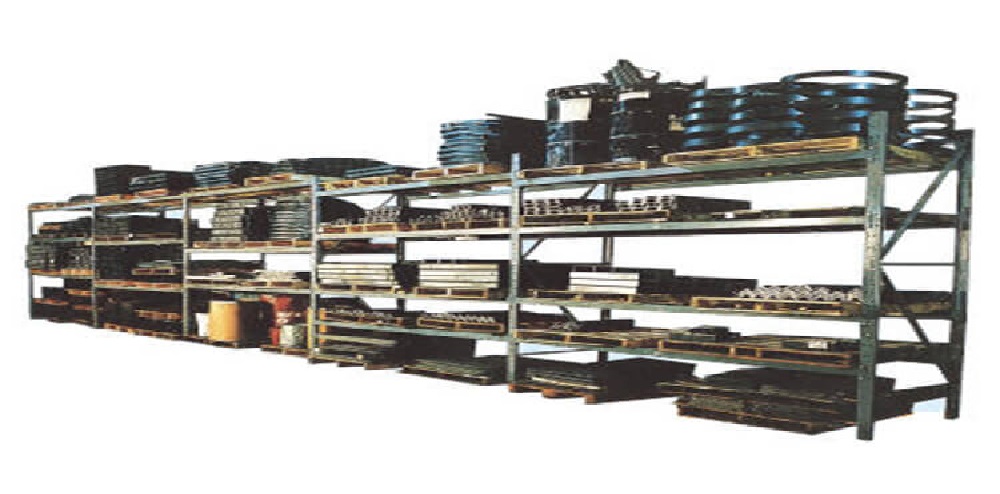 MECO OMAHA manufactures five basic cantilever racking capacity series to fit your storage requirements – from Series 1000 Medium Duty through the Series 5000 Extra Heavy Duty. Available in upright heights from 6′ to 20′ with 2′ through 10′ brace widths (measured on center). Arms are completely adjustable on 3″ centers to accommodate an infinite variety of items. Straight arms are available in nine different lengths with or without lips. Heavy Duty and Extra Heavy Duty arms are both available in seven lengths with or without lips. Inclined arms are available in seven lengths with or without lips. A wide range of base sizes allows custom designing of rack systems to your individual needs. Uprights are punched on both sides for versatility and can be used single sided or double sided depending on the size of base used. Note that arms must never be placed on the back side of a single-based upright. MECO OMAHA CANTILEVER RACKS are modular within each basic capacity series so that additional arms, uprights and cross braces may be ordered at any time to add to your existing system. Different sized arms may be interchanged on racks to further tailor your racks to different uses. Standard and Heavy Duty arms (page 28) are designed for use on Series 3000, Series 4000 and Series 5000 uprights only. Series 1000 and Series 2000 components are not interchangeable with any other rack series.
Single sided uprights can be converted to doubles when used with longer bases designed to accommodate placement of arms on both sides. Upright capacities can be computed by multiplying the number of arms per upright by the individual arm capacities—NOT TO EXCEED TOTAL UPRIGHT CAPACITIES LISTED. Arm capacity is based on EVEN DISTRIBUTION OF LOAD. All racks are designed for quick assembly and come with complete instructions and hardware for installation. Completely adjustable MECO OMAHA CANTILEVER RACKS eliminate storage problems. Heavy duty steel construction permits storage of tubes, bars, structurals and other long heavy items that must be kept off the floor. Bases can be used for extra storage. Forklift easily loads off and on arms and bases. Fast, convenient handling of heavy, long unwieldy stock. Instant accessibility to one piece or a full load. For longer materials, simply add braces and uprights to fit your requirements. Specially designed MECO OMAHA CANTILEVER RACK systems may be required to meet your needs. MECO OMAHA representatives will work with you to develop the most feasible and economical rack system for your special situation. Special label requirements can be met at a additional cost. Ask us to quote prices and specifications for rack systems not covered in the MECO OMAHA BUYER'S GUIDE.
Meco Pallet Rack:
MECO OMAHA Structural Pallet Rack is designed in accordance with AISC and RMI Standards. Upright frames and load beams are fabricated from structural channel with a minimum yield of 36,000 PSI. Beams are secured to the upright frames with plated, heavy duty bolts and nuts—cannot be dislodged by forklift impact; installation is fast and easy with no special tools required. A wide range of frame heights, depths, beam lengths and load capacities is available to meet the most demanding storage requirements. Custom pallet rack is designed by a dedicated engineering staff using state-of-the-art CAD technology and years of experience.
UPRIGHT FRAMES
Rigid, all-welded uprights provide storage capacity up to 52,200 lbs. per frame. Select the height of upright frames according to existing ceiling heights, sprinkler systems, and forklift limitations. Frame depth is determined by the length of the pallet: Standard pallet overhang is 3″ front and back. The stated capacity of upright frames is based on a maximum vertical beam spacing of 60″. A vertical beam spacing of less than 60″ will result in the same stated capacity. The vertical beam spacing includes the distance from the floor to the top of the lowest pair of load beams. If a vertical beam spacing greater than 60″ is required, contact your MECO OMAHA representative to determine upright frame capacity. Frames are punched on 4″ centers for maximum beam adjustability.
LOAD BEAMS
Special bracket allows 2″ adjustability up and down the frame. When selecting the appropriate beam length, add a minimum of 10″ to two pallet widths or 14″ to three pallet widths. Additional spacing may be required for pallets with excessive load overhang. Using the Load Beam Table of Capacity, select the pair of beams of the proper length and capacity making sure not to overload the beams. NOTE: Capacities are based on a uniformly distributed load over a pair of beams and are in accordance with AISC and RMI Standards. Deflection does not exceed 1/180 of the beam length. Load beams and related beam braces are sold as an integral unit.