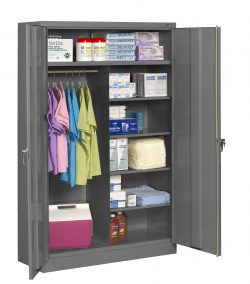 Storage Cabinets Are Not All Created Equally
If you thought storage cabinets were all the same, think again. Tennsco storage cabinets offer a real difference. Whether your application involves office, industrial or general storage, you'll be impressed by Tennsco Storage Cabinets in their quality construction, good looks and long term performance.
Select from the following types of Storage Cabinets:
Standard Storage Cabinets
Deluxe Storage Cabinets
Jumbo Storage Cabinets
C-Thru Storage Cabinets
Tennsco's powder-coated finishes work with any work environment while offering a long lasting attractive finish.
Ready to Assemble Option
Tennsco's Ready-To-Assemble units are a great way to save money. These quality cabinets offer easy assembly using the included special nut driver. Doors use pin hinges for effortless attachment to the cabinet body, offering exact alignment.