7-Tier Jeter Used Shelf File Cabinets 36″ width and Work Shelf Included
7-Tier Jeter Used Shelf File Cabinets 36″ width. Color Grey. Shipped pre-assembled and blanket wrapped only. List: $1,854.00 Our Used Sale Price: $477.00 plus shipping. Limited inventory available. (3 unit minimum)
Designed for color-coded end tab filing systems
Our straight stackable shelving is a perfect solution for open-shelf filing needs. Designed to be used in conjunction with color- code end tab folders, our straight stackables come with fixed welded dividers and a sleek profile, making it an ideal choice for filing system storage.
Modular individual tiers can be stacked up to eight levels.  Our units are designed to increase file recognition and visibility for error free filing and faster retieval.  Straight stackables are available in both letter and legal depth.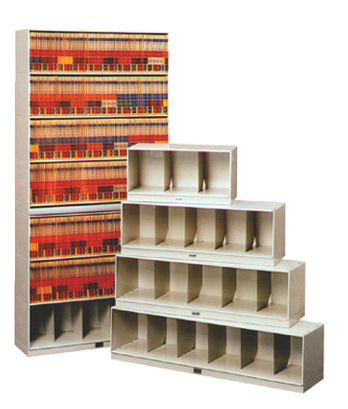 If ordering 20 or more cabinets, please contact us for additional discount pricing.
For the fastest service, please specify how many units you would like to have and send your request using the "Request Free Quote" below link.