Heavy Duty Industrial Z Line Shelving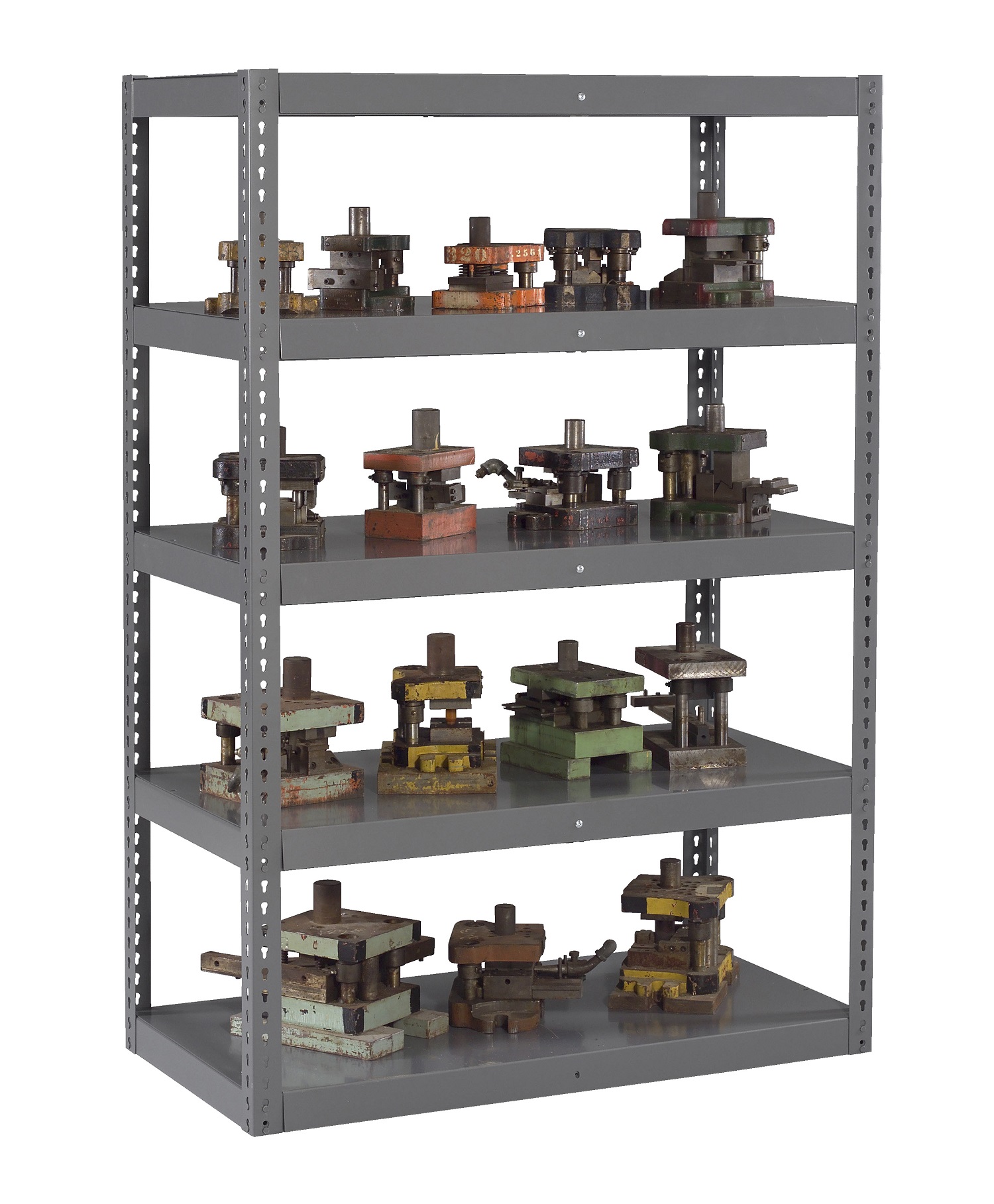 All Tennsco Z-Line Shelving is painted with a tough, long lasting, enamel finish to ensure years of lasting beauty. Choose from three standard finishes. Finishes shown above are only representative of the actual finishes. If greater accuracy is required.
Heavy gauge double rivet boltless design and keyhole slots form a rigid framework. Quick, easy assembly without the need for cross bracing. Long span units configure up to 96" wide by 48" deep. With 3 post designs to choose from (Standard, Intermediate or High Capacity), uprights are available in lengths from 36" up to 181 ½". 3 deck types (Particleboard, Wire or Steel) available to accommodate any application. 4 shelf-support designs (Low Profile, Medium Duty, Heavy Duty, Extra Heavy Duty) to choose from for maximum flexibility. Units can be configured for multi-level applications, such as mezzanines.
*Finishes shown above are only representative of the actual finishes.
---
Low Profile Shelving Unit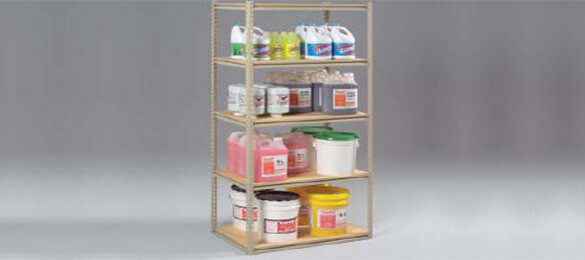 Tennsco Z-Line Low Profile Shelving Units are your solution when you need to maximize vertical storage space and need unobstructed access to stored items. The specially designed shelf supports with particle board are only 11/8″ tall yet handle load capacities from 600-800 lbs depending upon the steel-gauge and shelf size you select. Widths available up to 48″
Wide Profile Shelving Unit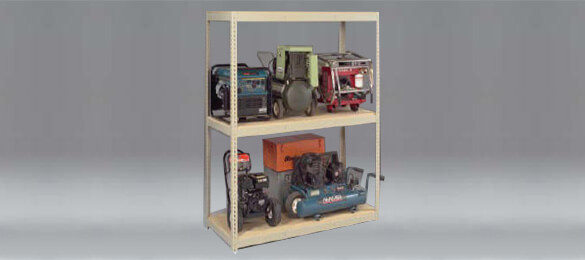 The 2¾" high steel beam of Tennsco's Wide Profile Shelving Unit supports applications where decking is used over longer spans. Whether your application involves wire decking or particle board, Wide Profile Shelving Units can handle your most demanding storage need. Weight capacities range from 1,250 lbs. to 2,500 lbs. depending upon shelf size. Widths available up to 96″.
Medium Profile Shelving Unit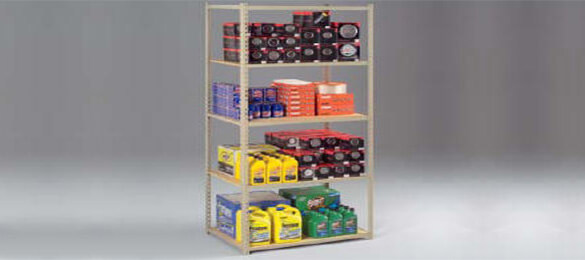 Tennsco Channel Beam Shelving Units are your answer to industrial strength storage applications. The 3¼" high steel channel beam offers maximum strength for shelf spans of 48″ and longer. Load capacities range from 1,600 lbs. to 2,500 lbs., depending upon shelf size. Widths available up to 96″.
Channel Beam Shelving Unit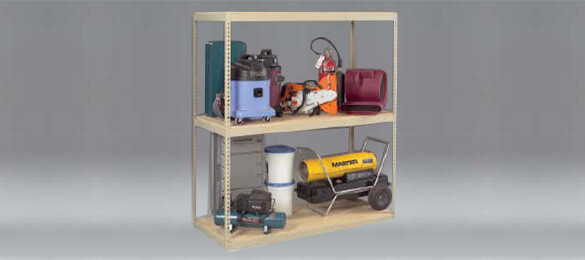 Tennsco Medium Profile Z-Line Shelving Units incorporate a special 21/4″ high v-beam design offering heavy-duty support at an economical price. With the added load capacity you'll find hundreds of uses in your factory or warehouse. Shelf supports are available in either 16 or 14 gauge steel to handle shelf load capacities ranging from 600 to 1,000 lbs. depending upon the gauge and shelf size selected. Widths available up to 72″.
Versatile Storage Options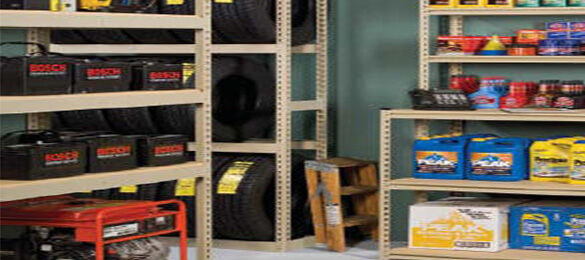 Adjustable shelves and easy to assemble modular design allows you the flexibility to configure Z Line shelving to meet your storage requirements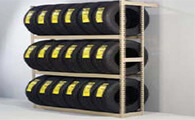 Conveniently stores tires for easy access and display. Vertical storage allows for maximization of available floor space. Available in a single or double entry unit.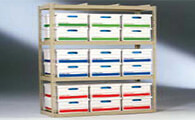 Z-Line is ideal for handling archived office materials like accounting records, computer printouts, etc. Use standard particleboard shelves, or choose angle box supports (shown above).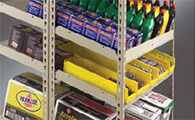 Stores items at an angle for easier viewing and retrieval of products on display.
Stur-D-Stor


Flexible shelving components create a five-shelf unit or handy work table. Stur-D-Stor's boltless design allows quick and easy set-up. Industrial grade particle board shelves with steel frames offer 1,000 lb. capacity per shelf. Shelves adjust in 1/2″ increments.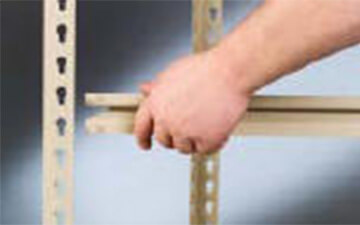 Boltless Assembly
Assembly of Stur-D Stor is quick and easy thanks to its no nuts or bolts design.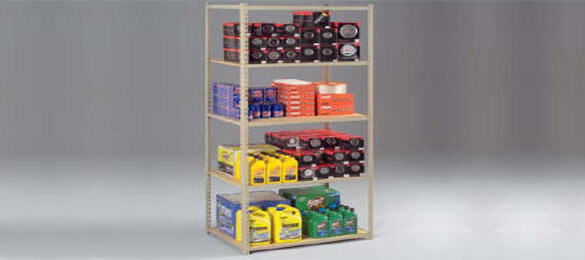 Modular Design
Stur-D-Stor can be configured as either a freestanding shelf.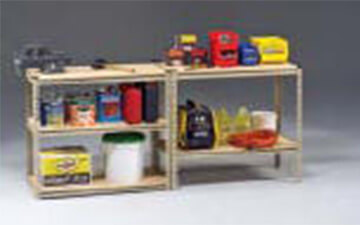 Built Strong
Industrial grade particle board shelves combined with rugged steel angle.
---
Steel Shelf Units

Sturdy steel framework combined with strong steel shelving provides a strong yet cost-effective solution to a wide range of storage requirements. Steel shelf clips attached to the uprights provide rigid and strong connection points for the steel shelves, removing the need for sway braces and allowing for unobstructed access from all four sides. Shelves on both Starter and Adder units can be adjusted on 11/2″ increments. Available widths are 36″, 42″, and 48″. Shelf depths are 12″, 18″, 24″ and 36″ to suite your specific needs. Note: Medium shelf supports are required to stabilize the unit at top and bottom.
---
Record Archive Units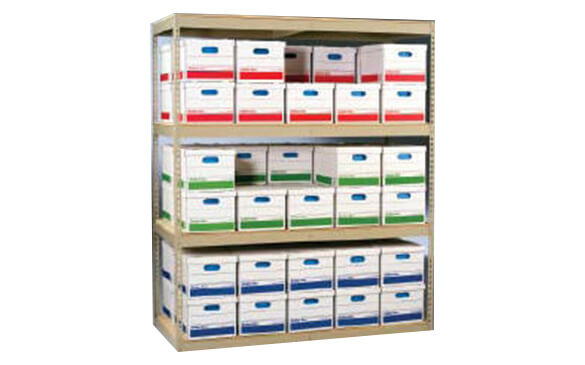 Rack designed to hold record storage boxes for archival purposes. May be ordered with or without particle board decking to allow you to use your own shelf surface.
---
Record Archive Special

Special units with angle supports allow record storage boxes to slide in and out of individual channels for complete organization. Available in a single or double entry unit.
Z-Line can be expanded to mezzanine storage for even more efficient storage. Send us your requirements and we'll custom design a system perfectly suited to your specific needs. When it comes to value without compromising performance, you're talking about Z-Line shelving. Its fastening mechanism combined with a versatile array of components means it fits all your storage needs. The interlocking keyhole design not only makes installation fast and easy but eliminates the need for clips, gussets, sway braces or other hardware necessary with conventional shelving. Without these obstacles you have completely free access from all sides of the unit. Z-Line's adaptability makes it ideal for any size storage requirement. Its interchangeable componentry means it can be configured for single width shelving applications or spans up to 96″ wide. It's a multifaceted system that affordably solves all your storage needs.