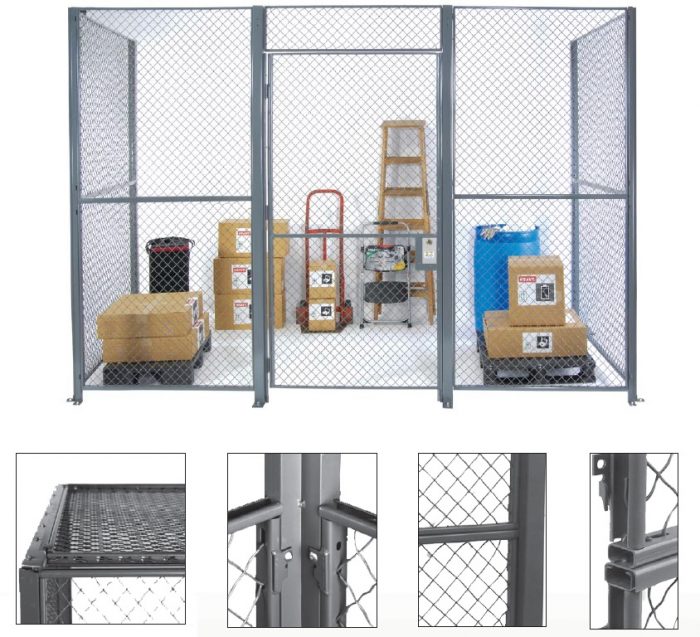 Provide a Safe Environment
EZ Wire ® is the patented "no nuts and bolts" security wire partition system designed to be the most economical and secure system in the industry. The EZ Wire ® hook-fastener system makes installation up to five times faster than standard bolted systems. Secure storage is achieved through the strength of 10-Ga. woven wire panels and 2-1/2″ steel posts. EZ Wire has a sweep space of 3 1/2". Unlike bolted partitions, the system cannot be easily defeated with common hand tools.
EZ Wire® security enclosures make loss prevention and access control easy to implement and incredibly affordable.
The complete EZ Wire system makes it easy to rearrange or expand enclosures in plants, warehouses and other commercial and institutional applications. The leading solution for both permanent and temporary installations. Installs five times faster than standard bolt systems and provides the highest level of security. Panels are made of 10 gauge, 1-1/2″ diamond weave steel for the ultimate in strength and security. Easily goes together with our hook fastener system.
Product Highlights
Quick and Easy Installation.
No tedious nuts and bolts.
Patented hook and pin design – Slips in easily and locks securely in place.
Smooth Finish – No rough, unsightly welds
Modular design – Can be expanded or re-arranged.
Shipped in durable crating to prevent shipping damage.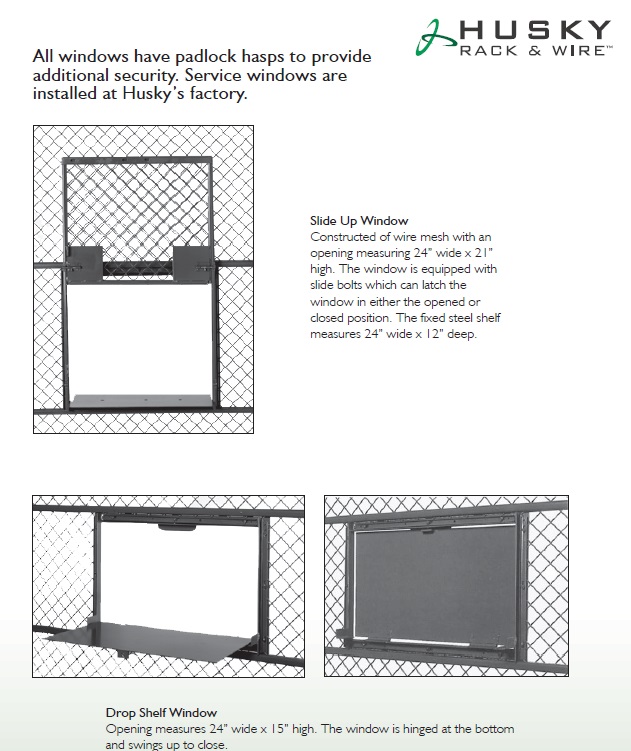 PANELS
Stock panels are manufactured in even widths of 1 ft – 10 ft and in heights of 1 ft – 5 ft. The panels are installed stacking one panel over another using special welded connectors on each panel. The horizontal connection between panels is accomplished without bolting, by overlapping the lower panel's upper framing channel with the upper panel's attached over channel. Each panel is attached to tubular line posts without bolts using connectors accessible from the inside of the enclosure only. Each panel has connectors welded to the vertical framing members which engage slots punched in the line posts.
FRAME
Vertical and horizontal members are 1-1/4" x 5/8" 14 gauge "c" channels with uniformly spaced holes for inserting woven wire. Vertical and horizontal members are mortised and tenoned at corners.
WIRE MESH
Wire mesh is made of 10 gauge triple crimped wire and is securely clinched into the vertical and horizontal frames. Wire is woven into a 1-1/ 2" pattern with the wires intersecting the channel frames at a 45 degree angle.
SWEEP SPACE
There is a 3-1/ 2" sweep space between the bottom horizontal bar and floor level.
FINISH
Panels, doors and line posts are painted with one coat of high gloss machinery enamel. Some hardware items may be zinc plated.
HARDWARE
Hardware (including masonary lag bolts) required for installation are included.
OVERCHANNEL
A 1-1/ 2" x 11/16" 14 gauge channel is attached to one horizontal framing member of each panel. This channel is attached using self tapping screws with the opening of the channel facing out. These channels may be demounted if necessary.
CORNER POSTS
Special tubular corner posts are fabricated from 14 gauge steel. The length of the post will equal the overall height of the assembled partitions. Slots are punched in the corner posts to allow boltless installation. Posts have pads welded to one end for attachment to the floor.
LINE POSTS
2-1/ 2" square 14 gauge tubular posts are universally punched with slots and holes for mounting all types of panels and doors.
DOOR CONSTRUCTION
Doors are constructed of similar materials to match the panels. Door frames are covered with rolled steel channels where necessary. Each sliding door has (two) four wheel adjustable trolleys traveling in an enclosed overhead track. The door bottom is guided by a U-shaped floor guide. Each hinged door has three fixed butt hinges and a jamb bar.
LOCKS
Each door is shipped with a bronze cylinder lock. The lock contains a 5-pin cylinder (1" standard) which may be master-keyed and keyed alike. A padlock attachment is also available.
EXTRA PARTITIONING HEIGHT
Installations requiring heights up to 40 ft. may be assembled by stacking partitions. 2-1/ 2" square tubing posts are installed between the partitions to join them together from floor to ceiling. A 2-1/ 2" x 7-1/ 2" pad is welded to the post for lagging to the floor. Bracing against ceiling joists, building columns or other means is required for installations over 20 ft. Installations in excess of 40 ft. in height and those where overhead bracing is not possible may require special design. Contact Husky Rack & Wire for engineering assistance.