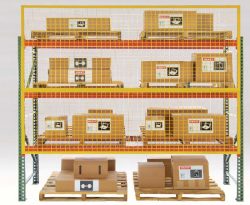 Rack Guard is the economical answer to rack safety and the increasing demands of regulatory agencies.
The new innovative design features of Rack Guard include a heavy duty, 8-guage, 2″ x 2″ square welded wire mesh welded into a heavy angle iron frames for longevity and dependability.
Product Highlights
Economical answer to rack safety.
Heavy duty 8 guage, 2″ x 2″ welded mesh.
Heavy angle iron frames.
Pre-punched holes for easy bolt on assembly.