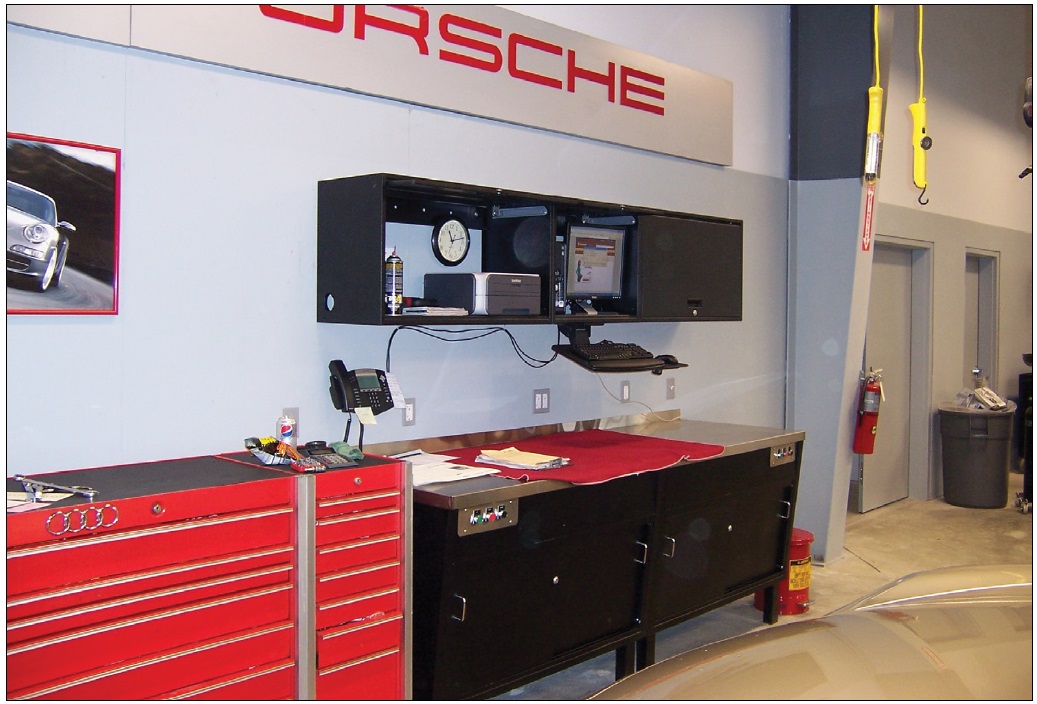 Concealed reel holder compartments, sliding lift control drawers and retractable cabinet doors provide a professional, streamlined appearance.
The Equipto Tech Bench combines essential service facility equipment and Hi-tech storage functionality to organize every aspect of a technician's workspace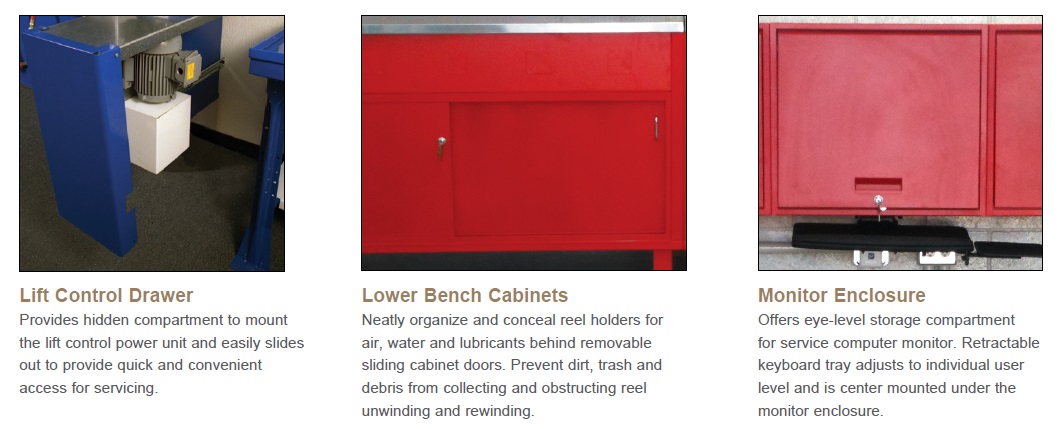 Tech Bench Workcenters – Preconfigured Units
16 gauge solid steel over wood core, wall-mount workcenter with a one piece top and integral backstop. Cabinets feature sliding/removable doors for storage or servicing of equipment. Includes knockouts for electrical outlets and hoses. (Electrical outlets and hoses not included). Standard cover plates are included, specialty cover plates are listed in the Optional Accessories section on page 99. Tech bench lower bench cabinets do not include back panel since wall mount is assumed.
TBL10S-55DN Includes two 60" sliding door bench units with a 10' stainless steel top – 120"W x 30"D x 283/4"H
TBL10S-44DE Includes two 48" sliding door bench units with one 12" overhang on each end with a stainless steel top – 120"W x 30"D x 283/4"H
TBL10S-44DC Includes two 48" sliding door bench units with one 24" center opening with a stainless steel top – 120"W x 30"D x 283/4"H
TBL8S-44DN Includes two 48" sliding door bench units with a 8' stainless steel top – 96"W x 30"D x 283/4"H
TBL8S-33DE Includes two 36" sliding door bench units with one 12" overhang on each end with a stainless steel top – 96"W x 30"D x 283/4"H
TBL6S-5DE Includes one 60" sliding door bench unit with one 12" overhang with a stainless steel top – 72"W x 30"D x 283/4"H
TBL5S-5DN Includes one 60" sliding door bench unit with a 5' stainless steel top – 60"W x 30"D x 283/4"H
TBL4S-3DE Includes one 36" sliding door bench unit with one 12" overhang with a stainless steel top – 48"W x 30"D x 283/4"H