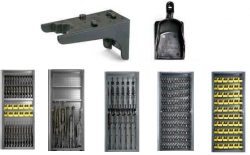 In addition to new weapon systems, armorers are now challenged by an ever increasing array of items which must be securely stored and organized in their armories
Customize this versatile cabinet with shelves.
Weapon Storage Platform consists of patented saddles that properly store any weapon
For additional organization add trays, bins, single stock shelves and pistol pegs that all adjust throughout the rack according to your needs.
The most popular configuration is 12 long guns at the bottom with 2 shelves above for tactical gear storage.
High Density weapon storage for your weapons storage needs.
Only our weapons storage Racks offer this level of adaptability and flexibility and makes it affordable.