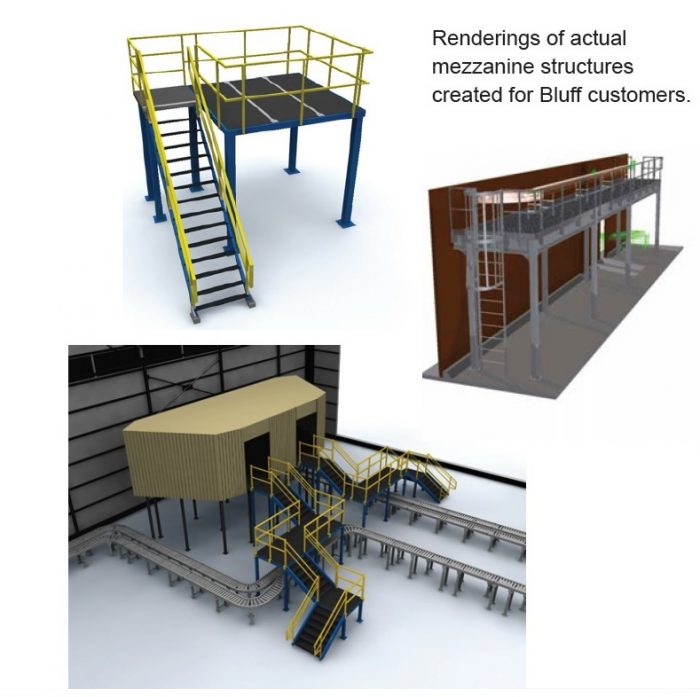 Authorized distributor for Bluff Steel Warehouse Platforms which include stairways, ladders, and conveyor supports.. Bluff Manufacturing's Product Line Also Includes Stairways, Ladders, and Conveyor Supports product information
Bluff Manufacturing has developed a broad line of steel structures to enhance the storage, efficiency and safety of today's warehouses. Our products are designed in a modular fashion to ensure years of use and preserve the ability to re-purpose the structures as your needs change.
These structures provide a real advantage for our customer because they adhere to our philosophy of innovative design, quality craftsmanship and value. Bluff has developed and acquired specialized talent with experience in these categories to ensure the high quality that Bluff is known for. The structures are all designed and built right here at our Fort Worth facility.
General Mezzanine Specifications
Free-standing, pre-fabricated structure; requires no on-site welding
Structural Engineer to supervise or approve all designs and details
Upon request, engineering (PE) seal on final drawings and documents of record can be provided
Customers receive an approval drawing for review and signature before fabrication is completed to assure accuracy
Mezzanine fabrication is completed by welders certified by American Welding Society (AWS)
Structural design in accordance with the American Institute of Steel Construction (AISC) Manual of Steel Construction
Joist Construction performed in accordance with the Steel Joist Institute (SJI)
All Hardware products Grade A-325 or equivalent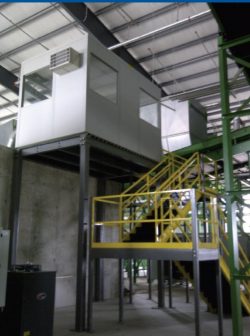 Decking Selections
PLYWOOD DECK – Unpainted 1 1/8" tongue and groove plywood specifically designed for flooring applications. Can be configured to handle loads up to 200 lbs. per square foot.
B-DECK – 18 gauge metal 1 ½" type B-Deck is used as a sub-floor. Underside of deck is painted white to enhance brightness. Finished floor is ¾" tongue and groove unfinished resin board. Best for rolling loads. Other options: Light Duty (125 psf), Medium Duty (150 psf), or Heavy Duty (250 psf) finished resin board.
HEAVY DUTY DECK – Steel bar grating. Sized per application requirement.
B-DECK (w/abrasive resilient floor) – For extra heavy usage and harsh working conditions. 18 gauge metal 1 ½" type B-Deck is used as a sub-floor. Finished floor is 3/16" steel diamond floor plate.
CONCRETE SUB DECK- C-Form sub deck with pour angle for concrete preparation.
Options:
pivot gates
swing gates
stairways and landings
All Bluff Manufacturing products are proudly manufactured in the U.S.A.
drop plates
custom openings
horizontal handrails
conveyor support systems